ISTQB¢ç Certified Tester
The 5th Exams in Manila (Sep. 24, 2016)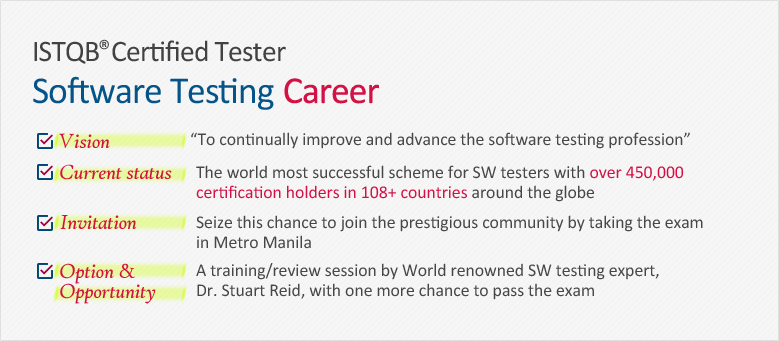 1) ISTQB Public Exams (Foundation, Agile & Advanced)
Exam 1) Foundation
ISTQB Foundation Exam
Public Exam Date & Time:
Saturday, September 24, 2016
- Foundation & Agile Tester: 10:00 ~ 11:00
- Advanced(TM, TA): 10:00 ~ 13:00pm
- Advanced(TTA): 10:00 ~ 12:00pm


** You must be seated 15 mins before the exam starts

Registration:


(Including payment)

Aug. 10, 2016 ~ Sep. 9, 2016 ( ~ 18:00pm)
Payment method:
by Bank transfer
- Full payment due: September 13, 2016
¡Ø Bank Information:
Bank Name: BDO
Account Holder: SANGMYUNG LEE
Account Number: 0028 6024 6459
Exams Venue:
@ ¡°The Forum¡±: Padilla Bldg, F.Ortigas Jr. Ave., Ortigas Center, Pasig City,
Metro Manila
Exam Resources:
Refer to www.istqb.org for download syllabus & sample exams
Target Audience:
Software Testers, Software Engineers, Test/Business Analysts, QAs, QA Managers, Test Leads, Programmers, Architects and anyone who are interested in software testing
Organizer:
KSTQB(Korean Software Testing Qualifications Board)
How to Apply:
Click and download an application form KSTQB(<<Click), fill up and send it back to info@kstqb.org. You will get an invoice by email after submitting your application. You will be formally registered and given your examinees¡¯ number when you pay 50% of exam fees(down-payment). The due date for the full payment is due on September 13, 2016

More Info on ISTQB:
www.istqb.org / SW Testing Academy in Philippines
2) ISTQB Exams Fees
| Exams | Fees (Incl. VAT) | Prerequisite |
| --- | --- | --- |
| ISTQB Foundation(Public exam) | 120USD or 5,400PHP | None |
| ISTQB Foundation Re-taking | 100USD or 4,500PHP | Last exam verification by KSTQB |
Please note that, as many of you already know, we can continue to carry out above exam events only when we have achieved a certain number of participants.
Please share this information with as many interested people as possible so as to work out all you wish to achieve together.
Thank you again for your active participation!
3) ISTQB Refund Policy
¢º For cancellation more than 10 days prior to the exam(before 14th of September, 2016), no cancellation fee is payable
¢º For cancellation 10 to 6 days prior to the exam(from 14th to 18th of September, 2016), 50% of the exam fee is charged
¢º For cancellation from 5 days prior to the exam(from 19th of September, 2016), then 100% of the exam fee is charged
KSTQB (Korean Software Testing Qualifications Board)
Phone: +82.2.6101.3616 / +82.70.8282.7448 Email: info@kstqb.org
Address: 2F. 54 Seolleung-ro 100-gil, Gangnam-gu, Seoul 06160, Korea South