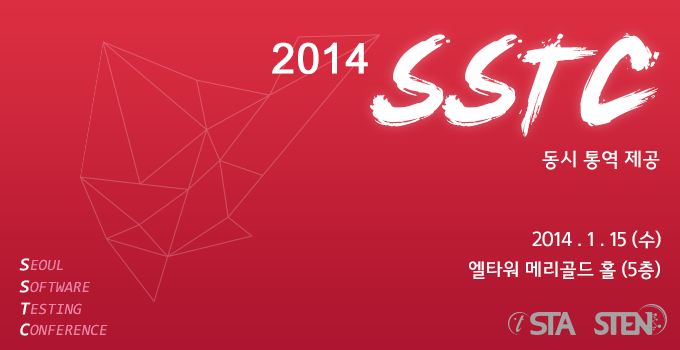 2008년, 2010년, 2012년에 이어 2014년
STAR EAST, STAR WEST 와 함께 국제 SW 테스팅 컨퍼런스로 이름을 올리고 있는
SSTC(Seoul Software Testing Conference)가 2014년 1월 15일에 개최됩니다.
4개국의 해외 전문가들을 모시고 테스팅 견문을 넓히는 자리에 여러분을 초대합니다.

'소프트웨어 품질 향상'이라는 공통의 목표를 가진 각 나라 각 분야의 테스팅 전문가들이 모여
베스트 프랙티스, 실무 지식을 공유하는 자리에 많은 관심과 참석 바랍니다.
2014년 새해, SSTC와 함께 힘차게 시작하세요!
- 행사의 원활한 진행을 위해 전문 동시 통역사가 함께 합니다 -
01.
컨퍼런스 개요
---
제 목
일 시
장 소
참석대상

등 록 비
2014 Seoul Software Testing Conference
2014년 1월 15일(수) 9:30~17:30
엘타워 메리골드홀(양재동) ※오시는 길
SW 테스트 매니저 및 엔지니어, 프로젝트 매니저(PM), QA 매니저 및 엔지니어,
개발자, 자동화 기술 지원, 품질관리 담당 임원 및 경영층, SW 품질과 관련된 모든 분
77,000원(VAT포함, STEN 포인트 결제 가능)










문 의



※ ISTQB 자격증 취득자 할인
- CTAL, Advanced Level 취득자 20% 할인
- CTFL, Foundation Level 취득자 10% 할인


▶

세미나 당일, 자격증 사본을 제출해주시면 됩니다.(중복할인 불가)

- 현장등록은 받지 않습니다.
- 카드결제, 계좌이체 가능(온라인 신청, 결제방법에서 선택)
- 취소 환불 규정 안내
- 증빙신청 및 결제방법 변경 안내 (세금계산서, 현금영수증, 묶음결제 등)
- 주차 가능합니다.
- 중식은 제공되지 않습니다.
- 컨퍼런스 문의: ☎ 070-7864-7705, 070-7864-7703, E-mail : seminar@sta.co.kr
- 결제관련 문의: ☎ 070-7864-7706, E-mail : accounting@sta.co.kr
기념품 안내
- 참석자 전원에게 '스마트폰 보조 배터리'를 선물로 드립니다.
- 행사장 입장 선착순 10명에게 도서 'SW테스트실무가이드'를 드립니다.

| | |
| --- | --- |
| | |
| 스마트폰 보조 배터리 | 소프트웨어 테스트 실무가이드 |
02.
컨퍼런스 프로그램
세션
주제
발표자
09:30 – 10:00
등록 및 입장 / 사회자 오프닝
세션 1
10:00 – 10:50
Keeping Your Customer Involved


▶Practical Example

Mette Bruhn-Pedersen
(STA Testing Consulting/
Bruhn-Pedersen Consulting)
10:50 - 11:00
BREAK
세션 2-1
11:00 - 11:50
Testing Big Data 1
- Unit Test in Hadoop
▶Explaining Testing Challenges when working
with Big Data
Jongwook Woo


(California State Univ.)

11:50 - 13:00
LUNCH & BREAK
세션 3
13:00 - 14:00
"You Got 200 hours"… Really?
How to turn things around when pressure in an organization not familiar with structured software testing.


▶Practical Example

Peter Betting


(Dutch Railway)

14:00 - 14:10
BREAK
세션 2-2
14:10 - 15:00
Testing Big Data 2
- Unit Test in Hadoop


▶Practical Approach

Jongwook Woo


(California State Univ.)

15:00 - 15:20
COFFE & BREAK
세션 4-1
15:20 - 16:05
Insights on Tester Motivation Based on Evidence 1


▶Research & Practical Approach

Stuart Reid


(TestSolutionGroup)

16:05 – 16:15
BREAK
세션 4-2
16:15 - 17:00
Insights on Tester Motivation Based on Evidence 2


▶Research & Practical Approach

Stuart Reid


(TestSolutionGroup)

17:00 - 17:30
발표자와의 만남 및 마무리
※ 프로그램 북은 파일로 제공됩니다. (참석자에 한하여 세미나 전에 PDF 파일 제공 예정)
03.
발표자 및 발표 내용 소개
---
PhD. Stuart Reid

(TestSolutionGroup, UK)

TITLE : Insights on Tester Motivation Based on Evidence

Abstract ▶▶▶
This presentation provides an evidence-based insight into what motivates testers today. If you are a test manager it will help you improve productivity and keep your most valuable assets – the testers. And, if you are a tester it will give you an understanding of how to change your behaviour (and that of those around you) to make you feel happier in your job.
Over the last two years, through a series of workshops, presentations and surveys, over 600 testers have provided feedback on what they believe motivates them.
Using the collected real-world tester data it is possible to identify those factors which testers find most motivating and which they find most de-motivating, so providing an excellent basis for job improvement. The study also separated out survey respondents into six different roles, such as test analyst, test lead and test manager. It is clear from the results that the different roles are motivated most effectively by different factors and job characteristics, and, for some factors, something that motivates testers in one role demotivates testers in another. The effects on motivation of education, professional qualifications, experience levels, salary, and outside interests for each of these different roles are also presented.
Speaker's Bio ▶
Stuart Reid is Chief Technology Officer at Testing Solutions Group. He has 25 years experiences in the IT industry, working in development, testing and education. Application areas range from safety-critical to financial, predominantly on the non-functional side to assurance and testing. Stuart is an extremely knowledgeable consultant who understands and manages vendor selection based on proposed solutions that are business critical and in which failure is unthinkable. Stuart has recently completed strategic initiatives for the Bank of England and the Royal Bank of Canada.
In addition to his work at TSG, Stuart also supports the worldwide testing community in a number of roles. He is convener of the ISO Software Testing Working Group developing the new ISO 29119 software testing standard and is the software testing rep at BSI.
He currently chairs the BCS Specialist Group in Software Testing and also chaired the ISEB Software Testing Panel through the initial years of qualification development. Stuart founded the International Software Testing Qualifications Board (ISTQB) to promote software testing qualifications on a global scale and still works on the ISEB and ISTQB Examination and ISEB Accreditation Panels.
A popular speaker at conferences on software testing, he is invited to present keynotes, tutorial and track sessions in Europe, Asia, Australasia, and the US about testing and agile practices. In 2007 he ran EuroSTAR in Stockholm, Europe's largest ever software testing conference with over 1200 attendees, and he regularly writes articles and white papers on software testing for magazines.
Peter Betting

(Dutch Railway, Netherlands)

TITLE : "You Got 200 hours"… Really?

Abstract ▶▶▶
Too often test time is decided 'at the golf course' without Testing ever being consulted. The tester or test manager is confronted with a number, a figure, for instance 200 hours, mostly based on thin air.
We are right to complain about this, and shout that it really can't be done... but that usually doesn't help much. So what CAN we do to turn things around?
This presentation tells about assumptions we all encounter during our daily work as a test professional, such as the one described above, and how we dealt with this at The Dutch Railway company, which ultimately resulted in the so called "IT Operations Race Track". Basically we changed from the "complaining and shouting" to:
• Asking simple questions, that the stakeholders usually find very hard to answer
• Showing them how we could get those questions answered with the help of our
Race Track
Speaker's Bio ▶
Dutch Railway, Netherlands
Presently, Peter is head of the IT Operations test department for the Dutch Railway company. Peter has many years of test experience and worked for many customers in numerous sectors such as Telecom, Retail, Public, Banking and Transportation. Peter organises 3 times a year a test event entitled 'FanTestische middag' at the Dutch Railway company. Peter has spoken on several test seminars and has given many software test trainings .
Jongwook Woo

(California State Univ. USA)

TITLE : Testing Big Data - Unit Test in Hadoop

Abstract ▶▶▶
Big Data has been buzzwords in the world as data grows exponentially because of sensor networks, social media, smartphones, and bioinformatics, which the legacy systems cannot store and compute them in non-expensive approach.
Hadoop has received highlight as the most popular Big Data solution, which supports frameworks to store and compute Big Data using non-expensive commodity computers. It is actually Apache Hadoop project that is motivated by Google's Big Data solution platform: GFS, MapReduce, Big Table. Hadoop provides HDFS, MapReduce, and HBase as Google's corresponding platform.
Hadoop MapReduce takes part in computing Big Data, in which we can build MapReduce algorithms and codes for applications such as data mining. However, it is not easy to test the codes as Hadoop is parallel computing systems when other sequential codes can be easily tested using JUnit API.
Thus, Apache MRUnit project has started for unit tests, which enables to run unit test on single machine not on parallel machine. MRUnit API is built on legacy JUnit 4 as well as JUnit 3.x. Using MRUnit API, the developer can easily write and run unit test on single machine, which is to test the Mapper, Reducer, and both.

In this talk, I will present what test approaches US companies try, for example, Shopzilla, what MRUnit is, how to wirte MRUniit codes with the example codes, and what other test exists now and future for Hadoop Big Data systems.
Speaker's Bio ▶
Professor Jongwook Woo received his M.S. degree in Computer Science and Ph.D. degree in Computer Engineering in 1998 and 2001 respectively from University of Southern California (USC) and his B.S. and M.S. degrees in Electronic Engineering from Yonsei University in 1989 and 1991 respectively.

Prof Woo is an Associate Professor at Computer Information Systems Department of California State University Los Angeles and he served as a 39th president at KSEA-SC (Korean American Scientists and Engineers Association, Southern California Chapter) in year 2010-2011. He has consulted many companies in Hollywood such as CitySearch, ARM, E!, Warner Bros, SBC Interactive etc. His research interests include Data Intensive Computing on Big Data, Data Integration/Retrieval, NoSQL DB, and e-Business and m-Commerce Architecture etc. He received educational and research grants in Big Data from Cloudera, Amazon AWS, and MicroSoft Azure, and Warner Bros.
Mette Bruhn-Pedersen


(STA Testing Consulting/ Bruhn-Pedersen Consulting, Denmark)

TITLE : Keeping Your Customer Involved

Abstract ▶▶▶
Summary:Agile development methodologies have promoted close customer collaboration for many years now. But if your project is not following an agile development methodology this may not be as simple as it sounds. In this talk Mette presents a simple method for keeping the customer involved during the implementation phase, which she and her colleagues used with great success. In that project the customer was already involved in the initial analysis phase and in the user acceptance testing phase. Mette describes the benefits, costs and a step-by-step process for using the method.
Speaker's Bio ▶
Mette Bruhn-Pedersen is an experienced test practitioner. She has primarily worked in the banking industry managing test projects of various types and sizes, building co-located and distributed test teams as well as implementing and improving test processes.
When given the opportunity Mette happily shares her experiences on conferences and in other forums.